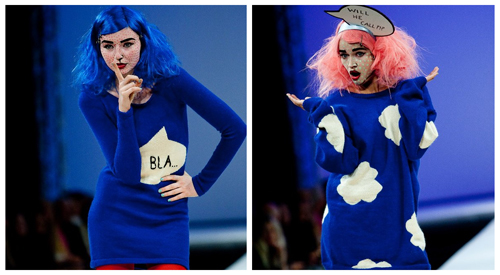 This is one of my favorite - well actually the ultimate favorite - fashion designer, norvegian Fam Irvoll. She's engenious with he
r odd, yet original style, and above all, the playful attitude she has towards clothes. It shines through her work so obviously! I would kill to get my hands on her designs, for example her
knitted 3D shirts
,
weirdelicious head pieces
or those fun
3D coctail dresses!
She's real talented, and her work's been worn by
Lady Gaga
, and
Tyra Banks
!
The thing I like most of Fammy, is that she uses her models as a piece of art, and makes use of make-up, hair etc. I don't believe that strong make-up and wonky hair steal the attention away from the clothes themselves, like some fashion higher-ups imply. In my opinion, the appearance of the model should support the idea frame constructed around the outfit. And above all, the models seem to have so much fun in those clothes, it's so cute!